The Kyushu Select soccer team was one of 10 teams that was present at the Japanese Torsen. They were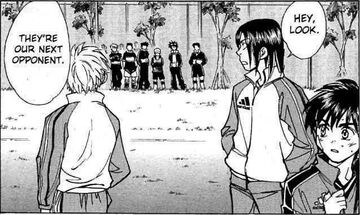 coached by coach Ozaki, and were one of the top 4 contenders to win the tournament because of the size and overall skill of their players. They commonly employed a man-to-man defense. In the Japanese Torsen, Kyushu overcame their opponents in the first round, but were defeated in the 2nd Round in overtime by the 
Tokyo Select team
.
Kazu Kunugi : Goalkeeper. No. 1
Shoei Takayama: Defender. No. 3
Yoshitada Joko: Sweeper. No. 4
Ad blocker interference detected!
Wikia is a free-to-use site that makes money from advertising. We have a modified experience for viewers using ad blockers

Wikia is not accessible if you've made further modifications. Remove the custom ad blocker rule(s) and the page will load as expected.